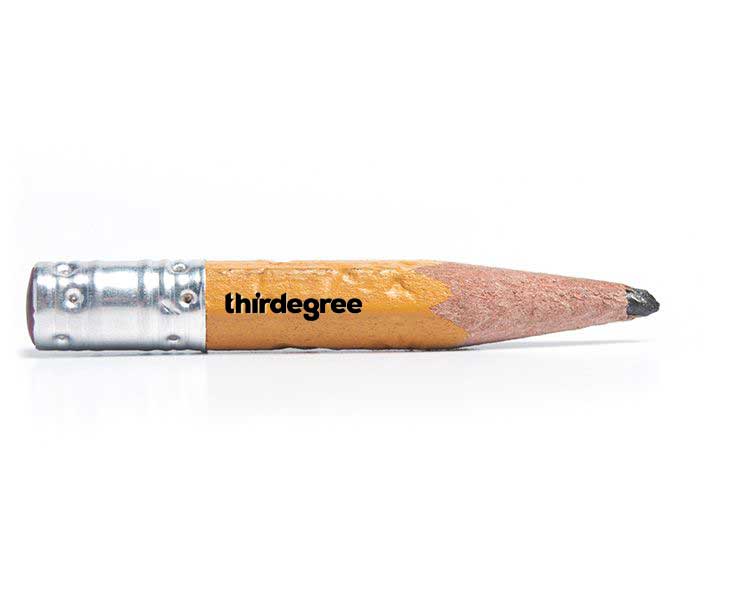 Advertising
Thirdegree is a boutique branding studio with a strong focus on digital. We are nimble and flexible in a way that some larger agencies just can't be. From the tiniest detail to the largest, we take a holistic approach to managing the development and maintenance of your branding – and advertising is a key aspect of that. From conceptualisation through to print production and dispatching, when it comes to advertising we can manage it all.
We heart creativity – within reason
Advertising is one of the most potent channels available to help businesses achieve their brand vision. But the advertising world is a very busy environment. To be noticed, it helps to stand out. At Thirdegree we love creativity, and we believe that standing out is great – but only if you're being noticed by the right people.
To achieve this, your advertising should be clearly communicating the right solutions to the problems your potential customers are facing. Clear, concise communication is the key. A piece of work may win awards, but it's not worth a sausage to your business unless it has helped build the brand and resulted in customer interaction, loyalty and growth.
Achieving advertising success
Taking the time to create a targeted advertising concept, that is tactically right for your product or service, is time well spent. Equally important is to research the market to make sure you broadcast your brand message where your target audience has the greatest chance of picking it up and responding to it. And that could be in a range of places: websites, bus shelters, social media channels, flyers print publications: there's a lot vying for your audience's attention. Make the wrong decisions here and you're looking at a costly vanity exercise.
Only once you're confident in your strategy should you turn the advertising concept into reality. Then it's action stations! As well as the design brief, you may need to hire a copywriter or book a photo shoot (we can help on both fronts), all the time keeping a close eye on the advertising deadline.
At Thirdegree we've designed hundreds of ads for clients of all sorts. Our advice? Don't rush things. Writers and designers need ample time to prepare your ad or campaign for market, and careful proof-reading and design revisions have to be factored in. Trying to cut corners while racing the clock significantly raises the risk of errors creeping in. And the last thing you want to see when your ad goes live is an incorrect contact number of web address that wasn't picked up in your rush.
If you have winning ad concepts just waiting to be realised, contact the team at Thirdegree today.