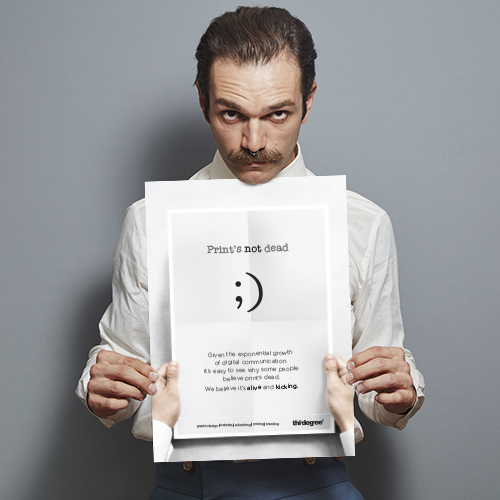 Print leaves it's marque
As consumer use of smartphones and tablets becomes almost ubiquitous, it's easy to believe that the art of printing is on it's last legs.
Easy to believe, but wrong.
At Thirdegree we think print is brilliant. And it provides a whole different opportunity to convey your brand message and value to the audience. People have been talking about the 'paperless society' for decades. We don't think there ever will be a paperless society, and here are some compelling reasons why there's life in the print dog yet:
1. It's tactile: people like holding beautifully created print products. It's why people still read books, even when Kindles and iPads offer an alternative. We believe there is and always will be a proportion of the audience that will respond positively to print.
2. It focuses the attention: it can be tough to get your brand value proposition adequately digested in the digital arena, because there's so much competition. The digital consumer's attention span is much shorter and the temptation for them to scan read and swiftly move on is always there (by the way, if you're reading on a mobile device, thanks for sticking with us this long). Print offers the consumer a different type of opportunity to spend quality time learning about your brand.
3. It can look stunning: it's often easier to create striking visual communications in print than online because you have a bigger canvas to play with. To enhance the user-experience, most websites are necessarily more functional than flashy. They can still look great, but offer less scope for expansive visual than print allows.
Naturally there's a time and a place for print. Thrusting beautifully printed brochures into the hands of rush-hour commuters desperate for a Facebook fix isn't likely to be the best strategy. But done well, print collateral can enhance your brand perception and allow you to tell the captive consumer much more about the awesomeness of your business and its products and services.
Finish it off in style
So we've established that print remains relevant and rad. And the majesty of print can be enhanced and maximised by the wide range of stocks and finishes available. These needn't break the bank, but can underline your brand credentials and reinforce ideas of quality and prestige (if appropriate). Some things to consider before embarking on a print project are:
Choose your stock: the stock of paper identifies its thickness and durability. Thinner stocks may cost less, but consider whether they align with your brand ambitions and how you want the potential customer to react to your print product.
The perfect finish: think about how you want the finished product to look and feel to the end-user. A glossy finish will allow your brand to leap off the page. A matte finish is less vibrant, but is often associated with a high-end product or brand. You can have all sorts of fun with spot varnishes, too. A spot-UV varnish coating, for example, overlaid on your business card or brochure logo simply screams quality. But there are a million more options and we can talk you through them all.
Proofing process: we always advocate printing colour-accurate proofs made up using the stock and finish prior to embarking on your final print run. It can cost a couple of hundred dollars to do this, but if you don't do it, and the final product isn't quite what you had in your mind's eye, it can end up costing you a lot more to put it to rights.
Again, make your decisions based on your audience and the intended use of the printed material. There's no need to go overboard on 10,000 flyers for a dry cleaning business, but 100 matte finished brochures outlining high-end services to local corporate clients could be a very sound investment.
We make printing made easy
As well as being design and branding aces, you can also utilise Thirdegree for all your printing needs. We have extensive contacts, ensuring all the hassles of finding a quality printer and managing the project will be taken off your hands. We'll also find you a great deal on price. Because we're well connected, we can often secure lower printing prices than they'd be able to find themselves. Everyone's a winner in that scenario – particularly you. Contact us today to discuss all your printing needs.