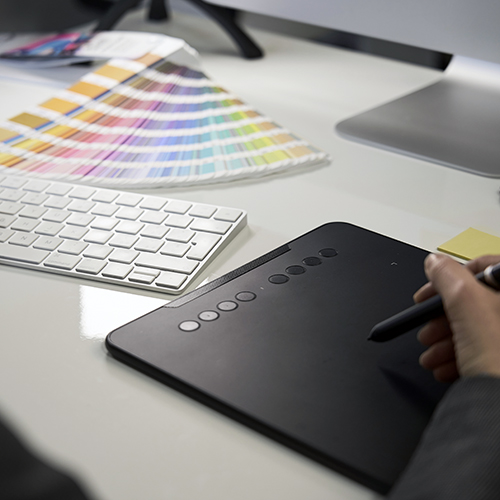 What's the state
of the art?
It's one thing to come up with a great idea, but it's a totally different discipline to bring that idea to life. At Thirdegree, that comes as second nature to us. Creating stunning artwork assets in support of your brand vision is what we're all about.
But the creation of the artwork assets (which can include logos, illustrations, icons, montages, font architecture, colour palettes and much more) doesn't stop there, or at least it shouldn't. Maintaining the integrity and consistency of your brand vision can be just as difficult as bringing that vision to life. Yet once the artwork is done and dusted, some design studios will call it a day, bust you an invoice and head off into the bright blue yonder, never to give you a second thought.
Thirdegree is different. For us, this is where the work really begins. You see, businesses don't just need artwork. For brand consistency, it is essential that colour themes are developed and maintained, font usage is monitored and images used only if they're appropriate for your brand vision. We can create you a style guide that sets out all these crucial components, so you can refer to it time and again in future to make sure you're remaining true to your brand. Our proofing and retouching work is thorough and ensures the creation of consistent brand collateral across all channels. In short, you can think of Thirdegree as your business brand champions.
Bringing your artwork to life
So, to summarise, Thirdegree + your brand vision = amazing artwork every time.
But what's next? Well, very often the printing process is the next phase in making your brand vision truly come to life. And again, having set up artwork in hundreds of different formats, we're ideally placed to help. From complex eight-colour packaging pieces and billboards to pull-up banners, membership brochures and the retouching of key visuals for use in national campaign roll-outs, we have dealt with pretty much every print process known to man.
We won't promise you the world and give you an Atlas. We'll give you a final product that matches your needs and your expectations to the letter. Your brand deserves nothing less.
If our approach lines up with your business vision, let's talk. Contact us today.
You can read more about our thoughts on best practice in printing here.